Who is Sandra Echeverria?
Quien es Sandra Echeverria?
Sandra Echeverria
is a Mexican actrezz and singer. She was born on December 11, 1983 in Mexico, DF to a mother of Dominican descent.
When Echeverria was young, she became a member of the group "Perfiles" which later changed its name to "Crush". With this group, Sandra was able to record 2 albums and perform in more
than 200 concerts. Among Crush's songs are: "Puede ser", "Eres tú", "Si tú te vas".
In 2002, she starred in TV Azteca's Subete a mi Moto where she worked with Barbara Mori, Michel Brown and Vanessa Villela, among others.
In 2004, she led the second season of TV Azteca's "Sonaras".
In 2006, she starred in the Telemundo production, Marina, opposite Mauricio Ochmann. Her co-protagonist ,however, was eventually replaced by Manolo Cardona.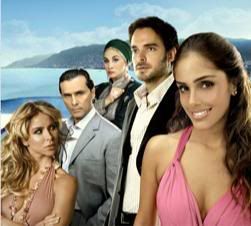 She is soon to be reunited with Ochmann in El Clon, a joint venture of Globo and Telemundo.
Echeverria has also dabbled into acting in movies.
In 2008, she played the girlfriend of High School Musical Star Corbin Bleu in Freestyle.
She is also to take part in "El Diez" with Alfonso Herrera. The movie, whose story revolves around football, is set to premiere next year, to coincide with the World Cup in South Africa.
Click the pictures for more fotos:
Fotos de Marina
Fotos de El Clon
El Clon Blog